Xanet Pailet
Last Aired on March 19, 2019
Xanet Pailet is a sex and intimacy coach, tantra teacher, sexological body worker and holistic pelvic care practitioner who has worked in the health care field for over 25 years. She is the author of Living an Orgasmic Life: Heal Yourself and Awaken Your Pleasure. She works with individuals and couples using a variety of modalities to help them explore different paths of pleasure within the body, increase their libido, and helps to heal emotional and sexual wounds. Xanet is a Certified Sexological Body Worker, Certified Tantra Educator, Certified Somatica® Practitioner, Certified Holistic Pelvic Care Practitioner, Sky Dancing Tantra Teacher and Somatic Experiencing Trauma Practitioner. www.powerofpleasure.com
---
---
Recent Blogs & Articles:
---
Episode Links:
March 19, 2019

Do you find it difficult to surrender to pleasure and just let go? Does your erotic-self seem alien to you? Then, it might be time for some sexual healing. Join us with Sex & Intimacy Educator, Xanet Pailet, as we discuss our relationship with sex at different times in our lives - from the hot 'n horny 20's, to the stale 'n boring 40's, and how it's never too late to re-awakening your sexuality so that you can have a better relationship, juicier sex and more passion in your love life.
---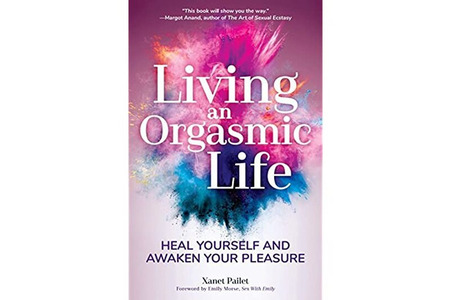 AUTHOR: Xanet Pailet
ABOUT: # 1 Best Seller in Sexual Health ─ Heal Your Relationship with Sex
Overcome your discomfort: Living An Orgasmic Life is for those who find sex challenging and are uncomfortable with their sex life. Women who are alienated from their erotic side due to sexual abuse or trauma will find healing balm in these pages. Women who can't surrender into pleasure, can't sustain intimacy, or want to reclaim and feel empowered in their sexuality will greatly benefit from this book.
Awaken your sexuality: Challenges with sexuality are common and infrequently discussed. Xanet Pailet explores the reasons that cause women to disconnect from their sexuality including shame, body image issues, sexual abuse and trauma, physical wounding, and fears of intimacy. She provides practical advice and tools to help women awaken to their sexuality in a healthy way and reclaim their libido.
Add sex back into your marriage: According to the National Survey of Sexual Health and Behavior, 20% of married couples are only having sex once a month―a sexless marriage. And, the number of reported sexless marriages has quadrupled in the last 20 years. Living An Orgasmic Life is filled with lessons and practical exercises to take your sex life from non-existent or mediocre to fulfilling.
Author Xanet Pailet notes: "I wrote this book because I am passionate about helping individuals who feel broken reclaim their sexuality and pleasure, and transform their lives. I want women who are struggling with sex to understand that help is available and that they can have healthy, passionate sex lives." Living An Orgasmic Life can help you rediscover the joy and pleasure of sex.
If you have read Sex Rx, Urban Tantra, Come as You Are, or Womancode, Living An Orgasmic Life is a must read. Learn:
Why it's so hard to talk about sex in a world where everything is about sex
How sexual trauma can occur and how to heal it
How to reignite your libido
What you can do to start living an orgasmic life