The Sexy Lifestyle with Carol & David Podcast
On The Sexy Lifestyle with Carol and David, join the fun-loving swinger couple, Carol and David, and get an inside look into the swinging lifestyle as they share their own personal experiences relating to sex, love and marriage. Learn how to have a stronger and more meaningful relationship from their unique perspective on staying connected, pushing boundaries, exploring limits, fulfilling fantasies and more. Through uncensored and honest discussions about great sex, passion, and intimacy, gain insight into a sex-positive and female-centric view of the modern-day couple. Carol and David are easy to talk to, and answer questions on air. With sexy tips and tricks find out how to improve your sex-life by living happy healthy and horny, every day! The Sexy Lifestyle with Carol and David is broadcast live every Thursday at 4 PM Pacific Time on the VoiceAmerica Variety Channel.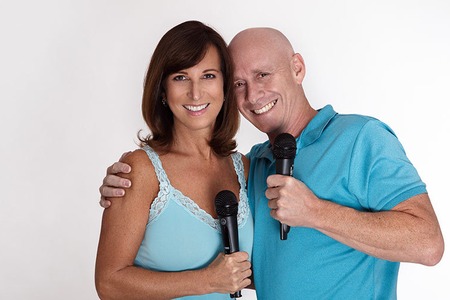 Host Bio
Hi. We're Carol and David. And we're thrilled that you are here - because, just like you, David and I are passionate about making our couple the best it can be.
We get what it's like, being trapped in a stale, boring, sexless relationship. We've been there - done that, in our previously failed marriages. Fortunately, we got a second chance, and decided to do it right. Starting with the most important values of a strong couple, like honest communication, commitment, and trust, we built a solid foundation. And then, we added another layer... and our sex-life soared.
We call it: THE SEXY LIFESTYLE. It's the perfect combination of sexy attitude and sexy fun, adding a little bit of spice to our daily life.
Essentially, we put our relationship in the top shelf of life's priorities, right next to our family and our jobs. By dedicating time and energy to our couple, we focus on staying connected, pushing boundaries and trying new things. And that makes all the difference.
And yes, it's true. David and I are real SWINGERS, and have been for many years. But that's only part of who we are. THE SEXY LIFESTYLE is our passion, and our way of living! And we are excited to share it with you. So you too, can spice-it-up, keep-it-real and live HAPPY HEALTHY and HORNY. And always remember. It's never too late to start again.
Our Journey
When David and I first met many years ago, we were still married, to other people. We were busy with work and raising our kids. Since we were neighbors, we managed to socialize together as couples. Over time, our exes fell in love with each other and then dumped us, so they could get married.
David and I supported one another through our respective divorces, child custody negotiations and resettling as single parents. We became friends. Real friends. Best friends. And of course, we fell in love. Eventually, we got married in 2013, at the age of fifty. Life has never been better.
The swinging lifestyle was a new concept that we discovered together in 2008. Our strong relationship and great communication skills allowed us to jump-in, head first. And we have never looked back. It didn't take long for us to become leaders in the swinging community, ambassadors of sorts, because we were open and public about our lifestyle choices. We had fun organizing swinger parties, events and trips, in addition to speaking on the radio and at conventions and seminars.
As our social media following increased, more and more vanilla (non-swinger) couples and singles, approached us with questions about our lifestyle. So, we decided to build an information website about THE SEXY LIFESTYLE. In addition, we have our own radio show on VoiceAmerica.com called "THE SEXY LIFESTYLE with Carol and David". Friday nights at 3:00pm PST / 6:00pm EST. Join us if you want to be inspired to live Happy, Healthy and Horny. Every day!
A few years ago, we would never have imagined ourselves in this position... but we are loving it! Not only are we having the best sex of our lives, but more importantly, we are having the best time of our lives. And... our couple has never been stronger.
We love THE SEXY LIFESTYLE. And hope you do too.
Stay Sexy XXOOXXOO