TheSwingerCruise.com Podcast
Aired on July 16th, 2020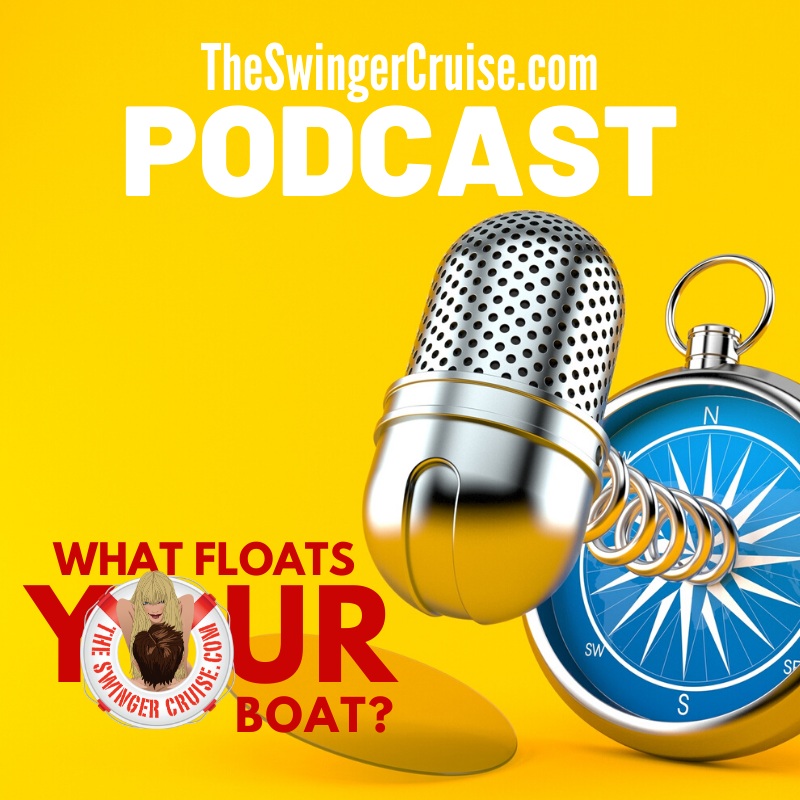 Welcome aboard. You've joined TheSwingerCruise.com Podcast with Carol and David, and our Special Co-Host, Miss Lynn, broadcasting live from sea to sexy, swinging sea. Our show is here to help you achieve better... better love, better sex and a better, more intimate relationship... not to mention THE BEST FUCKING VACATION.
---
Episode Links:
July 16, 2020
Are you looking for a better understanding of how to optimize your pleasure center? Are you ready to learn more about the functionality of your genitals and dismiss some of the misconceptions propagated by porn? Join us with Sex Therapist, Dr Rhoda Lipscomb, as we talk openly about how to make the most of what you've got and stay sexually healthy with regards to erections and pelvic floor strength.
June 11, 2020

Do you consider yourself open-minded? Enough to mingle with a swinger group… without judgment? Perhaps you're curious and want to watch vicariously from afar? Or even ask questions about the swinging lifestyle? Join us with Savannah Jack, a five-member band that performs regularly on the Royal Caribbean Cruise Ships, as they share their experience performing and hanging out on the ship full of swinger couples on The Bliss Cruise..
May 12, 2020
Are you intrigued about the power of erotic hypnosis and suggestive reasoning to improve your sex life? Are you looking for ways to open her heart and her pussy and gain confidence in bed? Join us with Author, Educator and Hypnotist, Dr Leonard, on board a Swinger Cruise for the first time, as we explore vaginal massage as a pathway to reaching greater heights of arousal and better sex. He even shares his top G-Spot Stroke Techniques with us.


April 9, 2020
Have you ever wanted to sit down with a real-life porn star and ask her about blow jobs? Like: Does a blow job really feel as good as it looks on a porn flick? And. How can I learn how to do that too? If you want to discover some inside secrets of a real-life porn star, join us on The Bliss Cruise with Lexi Luna, as she gets "down and dirty" talking us through one of her Blow Job Workshops, enlightening us with her experience and expertise to fully understand the techniques required for an amazing blow job – including deep-throating – and more.


March 13, 2020
Are you curious about the swinging lifestyle? Perhaps you've already discussed it with your partner – and you've decided to give it a try? Now you want to know what you have to do next to enjoy a positive and memorable first swinger experience. Join us with Miss Lynn from TheSwingerCruise.com as she hosts the Newbies 101 Workshop on board the Bliss Cruise, answering specific audience questions about how to approach other couples, staying safe, sealing the deal and a whole lot more. It's fun, it's interactive and most of all, it's informative.
February 5, 2019
Looking to fulfill an erotic fantasy in a safe, judgment-free environment? How about on a cruise ship with 4400 open-minded people, all looking for a similar experience? The cruising industry is changing to meet the needs of a community that is expanding at a steady rate. The community of open-minded and sexy people seeking out new erotic experiences has found a sexy haven on the Bliss Cruise and they are loving the experience - out on the open seas. Join us as we broadcast on location from the Promenade Deck of the Royal Caribbean Cruise Ship, chatting with a couple of sexy guests as well as Cruising Experts, Lynn Oliveri from TheSwingersCruise.com and Wayne from Bliss Cruise, talking about this new niche market.
January 29, 2019
Open-up your mind. Open-up your dialogue. Open-up your relationship and try something new – out on the open seas. When it comes to sexuality, curious is the key. And, because variety really is "the spice of life", the more curious, the better. If you are ready to explore a more open sexual environment, away from nosy neighbors and disapproving friends, then you might consider joining the largest gathering of open-minded lifestyle couples all in one place - on the Bliss Cruise - where 4400 people fill the largest Royal Caribbean Cruise ship for a week-long party. You can dip your toes in and test the waters, or dive right in. What-ever suits you. It's all good! Join us as we broadcast on location from the Promenade Deck Cafe, as we chat with Dominatrix, Goddess Phoenix, and a few guest couples talking about how to open-up and explore your sexuality in a sexy-fun and safe place.