Real Sex Talk with Kim & Brad Walker
Aired on September 27th, 2019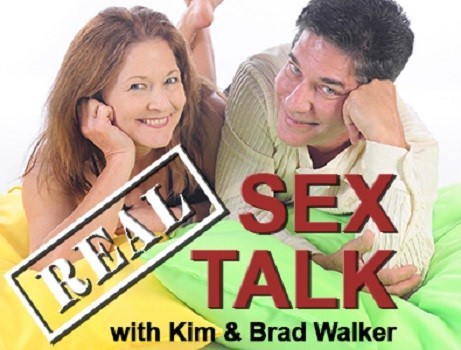 Show Description:
Heather Havenwood introduces Kim and Brad Walker, the hosts of Real Sex Talk. Kim and Brad are the founders and creators of tantrichearts.com.
Kim says she started the show to empower singles and couples. Brad says it is about more passion now. These will be real conversations about sex and sexuality. Brad says there are no holds barred.
Kim is a tantric educator, massage therapist and hypnotist. She tells us how she got started down this path. Brad introduced tantric sex to Kim when they got married. He explains that when he was younger, he was not a big hit with the women. He discovered tantra and started to do better with the women.
Brad is a tantra educator and massage therapist. He helps individuals, couples and groups.
Brad recommends to men that they not be afraid to get in touch with their women. He says the secret is to engage in things that excite your partner. He says that massage and dance are great ways to connect to your partner. Brad refers to dancing as vertical foreplay.
Brad and Kim have been married for 25 years.
Tantra is sacred sexuality. It embodies everything you do. They teach through playshops to couples and singles. They also involve themselves in tantra travel.
They want to help others bring passion back into their relationship. They will discuss connections on a different level.
Tantra has no boundaries on its own. You set your own boundaries. They work to match the expectations of each partner.
People tell them how much their teachings improved their relationship.
You do not need a partner to practice tantra.
Brad explains they will be covering a lot of topics in this show. They will cover techniques for attracting a mate.
They plan to continue travelling all over and helping people to become empowered. They are going to have cruise ship events. They will be travelling to venues across the world. Kim is involving hypnosis in their tantric education.
The question is asked what the difference is between sexuality and sensuality. Kim says that sensuality comes from within while sexuality is an act. Brad says sensuality has to do with the senses, but if he touches with the intention of arousing it is sexual.
Brad says most adults don't make time to play. Tantra education is about learning to play again.
Brad explains that growing up in a religious household he didn't learn much about sex. He feels most are in this position. Most people are taught sex is dirty and is shared only with someone you love. It is a mixed message. They work to remove these blocks from people.
---
Episode Links: