Done Being Single
Aired on December 16th, 2020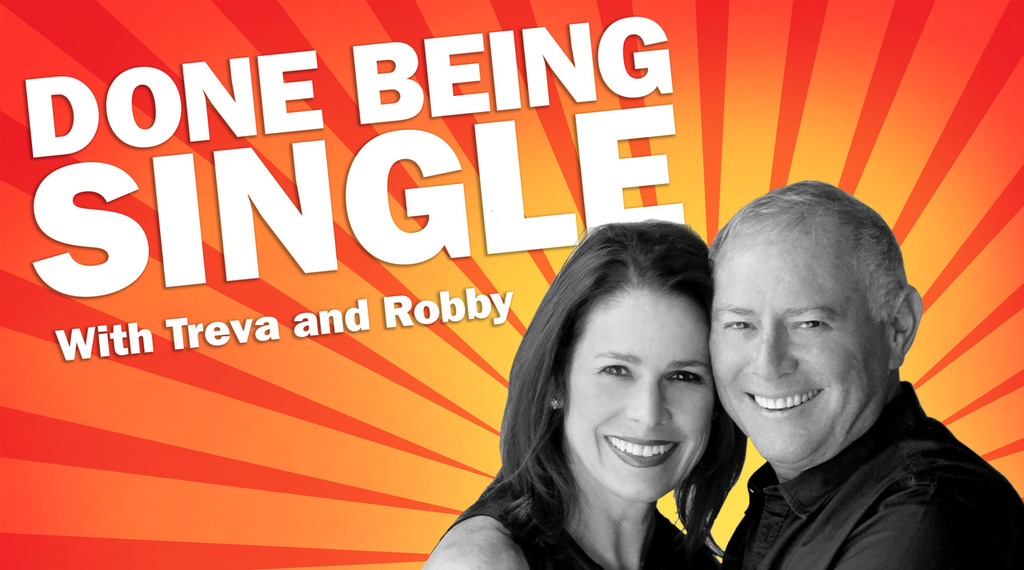 How did Treva and Robby Scharf know it was time to settle down? Because they were done being single.
Before getting married at 51 and 57, Treva and Robby did it all, dated it all, but neither could close the deal. For Treva, dating was the thrill of victory and the agony of defeat. At almost 50, she gave up on marriage, and resigned herself to eternal singleness. Robby on the other hand, kept his options open, telling himself when it was "right" he'd know it.
Treva and Robby were having parallel experiences, but didn't know each other, even though they attended the same high school in Beverly Hills. It was mutual friends on Facebook that ultimately brought them together. Once they became acquainted online, they ended up meeting IRL at Treva's 50th birthday party in 2013. A week later, they went on their first date. Six months later, they got engaged. Nine months after that, they got married.
Right after Robby proposed, Treva started a blog called "The Late Blooming Bride," to document her journey from single life to first-time midlife wife. The blog took off, making Treva the go-to authority in the midlife dating world.
As a post-50 influencer, Treva has contributed to Huffington Post, Arianna Huffington's Thrive Global, Bustle, Relationship & Development Transformation, Hollywood Progressive, The Intelligencer, The Examiner, among others. She's also been a featured speaker for online summits and panel conferences on the topic of female empowerment.
The blog turned into the podcast, Done Being Single, which Treva hosts with husband Robby. With a combined 108 years of single life under their belt, Treva and Robby are the perfect voices to dispense advice and impart wisdom about love, and how to find it later in life.
Done Being Single isn't your typical dating and relationship podcast, and Treva and Robby aren't your typical hosts. They don't offer empty promises and platitudes. Rather, they offer tough love dating intervention and inspiration to anyone at any age. At the same time, they offer listeners a peek into the inner workings of their marriage as they discuss the topics at hand.
It doesn't matter if you're chronically single, newlywed, stuck in a loveless marriage, a dating hater, a wannabe couple, fresh out of a divorce, new on the market, stuck in dating hell, or just done being single, Done Being Single has something for everybody.
To augment their test-driven tips and insights, Treva and Robby have brought in the big guns, including the world's best dating coaches, relationship experts, best-selling authors, therapists, doctors, and personal development thought leaders to help people navigate the modern world of love. From singles advice to life advice, relationship guidance to personal empowerment, dating tips to sex tips, Done Being Single goes there with candor, honesty, and humor. They keep it real, but they keep it fun too.
If you're looking for a fresh perspective on relationships, a new take on romance, a different approach to finding love, a refresher course on dating, or a better way to become a better you, tune into Done Being Single and prepare to level up your life in every way.
---
Episode Links:
Click Here to Listen: Done Being Single