Sheri Winston
Last Aired on June 5, 2020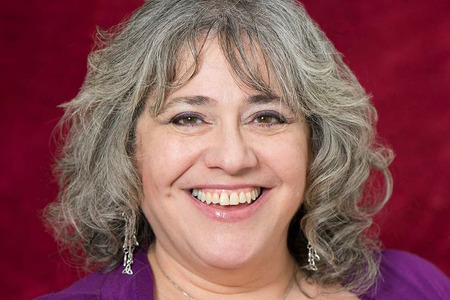 Holistic Sexuality educator Sheri Winston is a ground-breaking, award-winning author and teacher who offers empowering, entertaining, erotic education for everyone. Shes the founder of the Intimate Arts Center. Sheri's unique holistic offerings are informed by her 17 years as a sexuality teacher, on top of decades of practice as a certified nurse midwife, gynecology practitioner, registered nurse, childbirth educator and massage therapist. Sheri offers pleasure centered sexed for grownups with a wide variety of practical and transformational intimate arts education. She delights in inspiring people to have a lot more pleasure, fun and fulfillment Sheri the author of the award-winning Womens Anatomy of Arousal: Secret Maps to Buried Pleasure which won the American Association of Sex Educators, Counselors and Therapists 2010 Book of the Year and Succulent Sex Craft: Your Hands On Guide to Erotic Play and Practice. https:intimateartscenter.com
---
---
Recent Blogs & Articles:
---
Episode Links:
June 5, 2020
Are you missing that playful sexy fun that you had when you first got together with your partner? Are you longing for the excitement that connected you in the first place? Perhaps you're wondering how to re-ignite that spark and fan the flames of passion, these days when we need it most. Join us with sexuality educator, Sheri Winston, founder and director of the Intimate Art Center as we discuss fun ways to create surprise, joy and pleasure within your couple as you spend more time together during isolation.
November 16, 2017
Do you understand the anatomy of female arousal? In other words… Are you familiar with all her juicy bits? Even the ones most people (yes, even sex educators, doctor, midwives and other experts) don't know about? If you want a guided tour, in search of her 'hidden pleasures', then join us, with Sheri Winston, author of Women's Anatomy of Arousal, as we discuss how to make her reach maximum climax and become multi-orgasmic, or even make her squirt.
---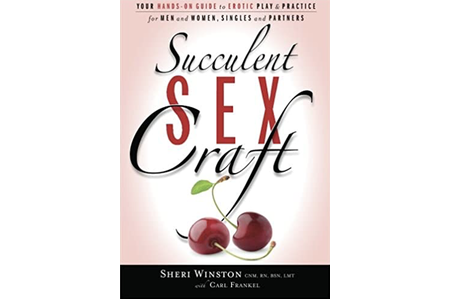 Do you dream of having spectacular sex? Can you imagine becoming an erotic virtuoso? Now it's possible with the help of Sheri Winston's groundbreaking new book!
Visionary yet practical, Succulent SexCraft offers a detailed road map to supercharging your erotic life and becoming sexually whole and empowered. With its wealth of ideas, practices and games, you'll be able to access extraordinary pleasure, overcome challenges and learn to play masterfully with your inner 'sexcraft' toolkit. It's your personal guide to developing a healthy, celebratory and ecstatic relationship with your sexuality.
We all have everything we need to have amazing sex. It's right inside us. Few people know how to use these 'sexcraft' tools to their best advantage, though. It's not something we get taught in school, right? Nor is it something we usually learn from our partners.
With Succulent SexCraft, you'll get this specialized knowledge laid out in a clear and entertaining manner, along with lots of suggestions for sexy fun, illuminating 'playshops' and super-useful practices. Whatever level your sex life is at, no matter how happy (or unhappy) you are with it, Succulent SexCraft will help you take it higher.
Best of all, it's written for everyone, singles and partners. Whatever your orientation or relationship status—no partner, one partner or lots of them—Succulent SexCraft will enable you to ramp up your sex life to extraordinary levels.
This isn't one of those books 'for dummies'—this is sex for smarties! Drawing from sacred sexuality traditions, modern sexology, holistic perspectives and a deep understanding of our wondrous anatomy, Succulent SexCraft offers a rich banquet of sexy games, fun activities and invaluable information. Plus, it's lavishly illustrated with contemporary and vintage erotic art. Succulent SexCraft is a holistic, integral feast that will satisfy every part of you—heart, mind, body and spirit.
Here are a few of the many maps and models the book offers:
Wholistic Sexuality Paradigm
The SexCraft Toolkit for Transformation, using your Body, Mind, Heart and Spirit
The Whole Yin Yang Thang
The Pussies and Puppies School of Love
Your Genitals in a Nutshell
Genital Joy for All
A sampling of the many games and practices includes:
Guided Anatomy Tours
Pelvic Breathing
Fire Breath Orgasm
Re-writing Your Sexual Stories
Energy Sex Skills
The Magic Inner Movie
Getting In Touch
Yin Breath, Yang Breath
Ocean Breath
Playing with Erotic Energy Pathways, and many more.
Sheri's last book, Women's Anatomy of Arousal: Secret Maps to Buried Pleasure won the coveted Book of the Year award from the American Association of Sex Educators, Counselors and Therapists (AASECT). Succulent SexCraft is a worthy successor. It's the gift that keeps on giving—a lifetime of ecstasy.With Succulent SexCraft, you get everything you need to turn up your turn-on and connect to your sexual power.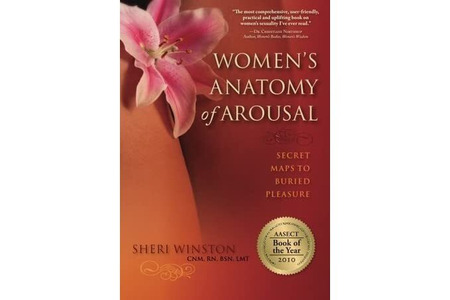 WINNER, 2010 BOOK OF THE YEAR AWARD! THE AMERICAN ASSOCIATION OF SEX EDUCATORS, COUNSELORS & THERAPISTS (AASECT).
Find out why Dr. Christiane Northrup has called Women's Anatomy of Arousal "the most comprehensive, user-friendly, practical and uplifting book on women's sexuality I've ever read. It's the gold standard!"
Women have a largely unknown network of structures responsible for arousal and orgasm that their owners and even most medical professionals don't know about. We're not just talking about Ye Olde G-Spot here. Women have an entire erectile network that, if properly stimulated, can elevate their erotic experience from "Oh!" to "Oh! Oh! Oh!"
Join celebrated sexuality teacher Sheri Winston as she integrates ancient wisdom, lost knowledge and modern sexuality information in a sexy, fun, empowering guidebook that illuminates every woman's secret paths to fabulous, orgasmically abundant sex. Whether you're a woman or a man who loves women, this book is for you!
There's great information here, but that's not why Winston wrote the book. She wrote it to transform people's lives and support them to reclaim their erotic birthright. And what she shares works! When people apply the information and techniques she provides, the result is often a whole new level of sexual pleasure. Many women experience their first ejaculations and/or become multi- or mega-orgasmic. Men learn how to make their female partner REALLY happy.
Women's Anatomy of Arousal includes discussions of anatomy and energetics, female ejaculation and expanded orgasm, and much more. It's packed with sidebars providing great tips to women and their lovers. There's even a short chapter for guys ("The Easy Girl's Guide to Making It Easy for Guys") summarizing the main points of the book!
Winston's background includes over twenty years as a nurse-midwife, gynecology practitioner and student of the ancient erotic traditions. Over the years, she has developed her own unique approach to sexuality education, called Wholistic Sexuality. She gets rave reviews as a teacher. Now her teaching is available in this fun, fascinating, immensely readable book that can transform your sex life for the better.
Winston is the executive director of the Kingston, NY-based Center for the Intimate Arts.