Laura Desiree - Talk Naked by Naked News
Last Aired on January 22, 2021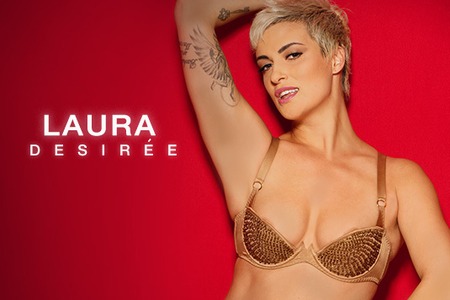 Laura launched her performance career on the bar-tops and bottle service tables of New York City's high-end hotels and Lower East Side dive bars. As a promoter for number of night life events, Laura became a popular go-go dancer and eventual Burlesque Performer under the guidance of Miss Jo "Boobs" Weldon and the New York School Of Burlesque. Returning to her hometown, Toronto Laura went on to produce and perform erotic-based cabaret entertainment locally and internationally.
Most recently, Laura created shock driven art performances for the stage at Toronto's Candyland as their Creative Director. While globetrotting to Emcee sexy events and strip her clothes off in the spotlight, she appropriately dons the title of "The Big City Kitty". Laura brings her unique brand of sexy, saucy and sassy to our program and is a natural on Naked News.
-----
Naked News is a Canadian news and entertainment program owned by Naked Broadcasting Network. It features naked women reading news bulletins derived from news wires. The show's production studio is located in Toronto, Canada.
Listen to Laura on The Sexy Lifestyle with Carol and David: https://www.voiceamerica.com/episode/108295/luxury-lifestyle-cruising
---
---
Episode Links:
January 22, 2020
Looking for a sexy-fun and exciting profession that keeps you on your toes and in the spot-light, in the world of sex and sexuality? Perhaps you're interested in combining your passion for sex-positive entertainment and media with your ambition of a successful career. Join us with Social Media Influencer, Naked News Anchor, Laura Desiree, as she shares her insight into her sexy world as an internationally renowned Burlesque Superstar and a professional news reporter who interviews people and reports on events totally naked.
---