Jaeleen Bennis
Last Aired on July 24, 2020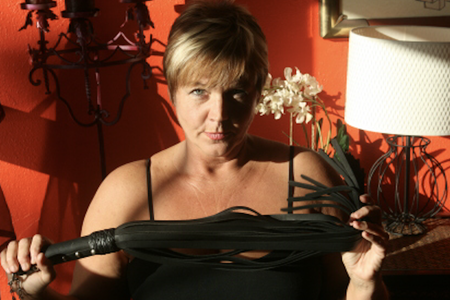 I am the Creator of Bondassage® and Elysium by Bondassage®, a Certified Massage Therapist, Professional Domina, Reiki Master, urban tantrika, and sensual shaman with more than 25 years of experience. I have extensive training in several healing modalities, including Amma, Swedish, acupressure, shiatsu, deep tissue, sports massage, Reiki, rebirthing, polarity, trigger and active release, Thai, Tantra, and Taoist Massage, Shamanic journeying, aromatherapy, and esoteric energy healing. I am a graduate Barbara Carrelles's Urban Tantra for Professionals program.
As a Domina, I specialize in corporal punishment, bondage, sensory deprivation, and a wide range of body play. My book, Bondassage: Kinky Erotic Massage Tips for Lovers, written with Eve Minax, was published in 2013. I live at the beach near Santa Cruz, California.
---
---
Episode Links:
July 24, 2020
Do you have a kinky side that fantasizes about being tied-up and blindfolded? Maybe you'd like to experiment with sensation play with your partner -- or even go one step further -- perhaps you'd like to explore your submissive desires, to let go and completely surrender? Join us with Professional Dominatrix, Jaeleen Bennis, as we discuss the Art of Bondassage, a unique and innovative style of sensual bodywork, and share our first-hand experience with her lessons guiding our journey into light bondage, sensory deprivation, sensation play, submission, exploration and pleasure.
---
AUTHORS: Jaeleen Bennis & Eve Minax
ABOUT:
"The next evolution in erotic massage, this book will teach you how to take your need for sensation to a whole new level!"—Jaiya, creator of Red Hot Touch video series and co-author of Red Hot Touch: A Head-to-Toe Handbook for Mind-Blowing Orgasms
"Bondassage is the absolute best massage book in the whole world! Gifted pleasure artists and world-class sex educators, Jaeleen Bennis and Eve Minax, generously share the secrets and skills they've gathered from decades of hands-on experience. Follow their simple, clear, concise instructions and you are guaranteed to manifest full body bliss and profoundly deep satisfaction—sexually and beyond."—Annie Sprinkle, Ph.D., author of Spectacular Sex—Make Over Your Love Life
When you hear the word "bondage," what comes to mind? Is it sensuality? Seduction? Deep relaxation and release? Bondassage is an amazing bondage practice that creates an entirely different experience from what most people think of and this book gives you the tools to discover it for yourself. Whatever your experience of kink, this is something new and this is a great guide for discovering the amazing pleasures of Bondassage.—Charlie Glickman PhD, sex & relationship coach and certified sexuality educator, www.charlieglickman.com
Learn how to give your lover a sensual, euphoric--and slightly kinky--massage that will open the door to new realms of pleasure, intimacy and connection for you both. Whether you're looking to learn simple things to do with your hands (pinch, caress, spank!), or are ready to explore light bondage and the delights of submission (including an introduction to basic sex toys and how to use them), this book will show you how to get kinky while deepening that loving connection to your partner.
Bondassage is a massage practice created by Jaeleen Bennis, who trains and licenses professional masseuses and bodyworkers in this exceptional set of techniques. Now you can learn the secrets of Bondassage to use in the privacy of your own home. Bondassage is perfect for couples looking to heat things up as well as singles looking to inprove their sexual confidence.