Dr. Susan Block
Last Aired on October 26, 2017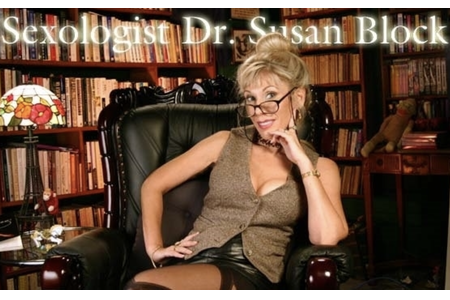 Susan Marilyn Block, PhD, a.k.a. "Dr. Suzy" is a world-renowned sexologist and director of The Dr Susan Block Institute for the Erotic Arts & Sciences based in Los Angeles. An award-winning filmmaker and talk show host best known for her HBO specials, she is the author of numerous articles, essays, short stories and books, as well as a sex therapist in private practice with a global clientele. A leading champion in the causes of sexual freedom and saving the inspirational but highly endangered bonobos, Dr Block practices and promotes peace through pleasure: The Bonobo Way. She is also the founder of the sex-positive, bonobo-supportive social media site, Bonoboville.com, and host of The Dr Susan Block Show which can be seen live every Saturday night from 10:30pm on DrSuzy.tv. Married over 22 years, Dr Block collaborates on all her projects with her husband and prime mate, Pr. Maximillian R. Lobkowicz. She also loves bananas, though not as much as Max. https://drsusanblockinstitute.com
---
---
Episode Links:
October 26, 2017
Do you go bananas for hot monkey sex? Are you curious about our closest kissing cousins? Then join us with internationally acclaimed and controversial sex educator, Dr Susan Block, as she entertains us with her provocative, humorous and engaging style, discussing everything we need to know about monkey sex that she learned from studying our genetic cousin, the bonobo chimpanzee.
---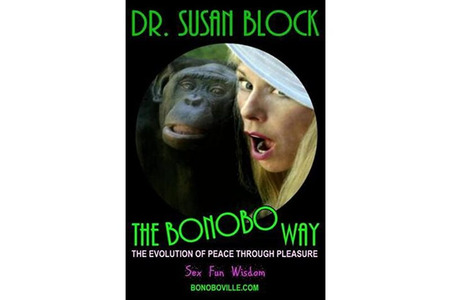 AUTHOR: Dr. Susan Block
ABOUT: In this unique and paradigm-changing book, internationally acclaimed and controversial sex educator Dr. Susan Block offers a brilliant new view of human sexuality, war, peace and community, inspired by a role model who isn't even human: our closest genetic cousin, the bonobo. With a provocative, humorous and engaging style that makes science fun and ecology erotic, The Bonobo Way boldly asks: What do these great apes know about sex--and the rest of life--that we don't? Here are some things we know about bonobos: They have lots of sex. They never kill each other. They empower the females. They stay younger longer. They live in peace through pleasure. And we thought humans were the smartest apes! For decades, experts have used the "killer ape" paradigm to explain why humans murder, make war, bomb and behead each other, and supposedly always will. Sure, our common chimp cousins kill, but do they tell the whole tale? Luckily, no. The Bonobo Way shows the other side of the story, presenting the bonobos as a new great ape paradigm for humanity that could change the world… or at least improve your love life. From the lush depths of the rainforest to the satin sheets of your bedroom, Dr. Block takes you on a fascinating journey, weaving stories, studies, theories and fantasies into possibilities and a practical path of action, presenting a very different kind of "12-Step Program" to release your "inner bonobo," help save the real bonobos from extinction and energize all facets of your life. Advance Praise for The Bonobo Way: "First things first: this book is really good... The Bonobo Way is whimsical yet serious, easy to read yet thoroughly researched, challenging yet ultimately deeply comforting. Dr. Susan Block is living proof that bonobos aren't just sexy and fun—some of them are damned smart, too." Christopher Ryan, Ph.D., best-selling author of Sex at Dawn "Bravo to Dr. Block for paving the way for a hopefully more bonobo future." Vanessa Woods, best-selling author of Bonobo Handshake "The Bonobo Way is marvelous--a happy book for a happy life and a happier world." Xaviera Hollander, best-selling author of The Happy Hooker "Brilliant book. Enjoying it thoroughly!" Sherry Rehman, Former Pakistani Ambassador to the U.S. "I love every page of The Bonobo Way. The book is a real page turner and turn on. Susan Block's vivid descriptions of bonobo sex and peaceful living through mutual sexual gratification should be mandatory reading for everyone struggling to maintain joy in their lives and live life to its fullest." Christian Bruyère, "Champions of the Wild" TV producer "I love, love, love it. It is a fresh way to look at sexuality." Darrel Ray, Ed.D. author of Sex and God "Delightful and insightful" Betty Dodson, Ph.D., author of Sex for One & feminist icon "Amazing! Dr. Block is an eco-sex visionary." Annie Sprinkle, Ph.D., Eco-Sex Artist "Dr. Suzy's 12 Steps to Releasing Your Inner Bonobo are a guide to a new understanding of how to enhance our personal sexual life and intimate relationships." Robert L. McGinley, Ph.D., The Lifestyles Organization "Think of it as Jane Goodall After Dark. A fun and fascinating read." Thomas Quinn, author of Chocolate Jesus? "Brilliantly presented...a rambunctious, shrewd, serious, yet humorous look at bonobo society." Michael Donnelly, Counterpunch environmentalistt "As the 21st century begins, with more violence and war than began what became the ultra-violent 20th century, Dr. Susan Block's latest book is a welcome tonic." Barry A. Fisher, Lead Counsel, U.S. Supreme Court cases "All those interested in human happiness should read this book." James W. Prescott, Ph.D., author of Body Pleasure and the Origins of Violence Whether you don't know bonobos from bananas, or you think you know all about these amazing creatures, The Bonobo Way will show you the way to a happier, healthier, sexier life, and a more peaceful, sustainable culture.