Dr. Nancy Sutton Pierce
Last Aired on May 28, 2021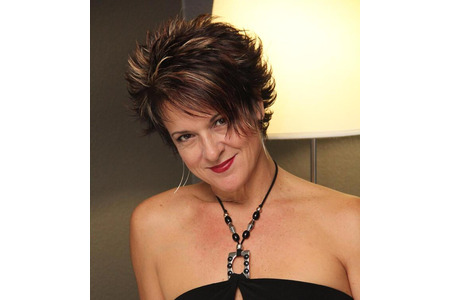 Dr. Nancy Sutton Pierce has an eclectic background, which places her expertise in a league of its own. The compilation of her career as a registered nurse, health educator, sex & relationship author, radio talk show host, and yoga therapist fuels her passion as an International speaker, sensuality educator, and Exotic Lifestyle Retreat CEO. Designer Sexuality, Intimacy Communication, Sensual Movement and Exotic ~ Erotic Lifestyle Coaching; all fall under her umbrella of Conscious Living Sexuality™.
http://nancysuttonpierce.com/
---
---
Episode Links:
May 28, 2021
Are you new to the Lifestyle and heading to an open-minded, clothing optional, swinger-friendly resort like Hedonism II for the first time? Are you worried about feeling shy, awkward, or out of place? Perhaps you're wondering how to approach another couple to get into a swinger orgy or how to avoid another couple who is interested in you, but you don't feel the same way? Join us with Sex Educator, Dr Nancy Sutton-Pierce from Exotic Lifestyle Events, and her husband, Dr Mark, as we go deep into discussing Hedo Life 101. From consent, rules and the etiquette of swinging, to the customs and rituals of the repeat offenders, we bust the myths and answer all the questions you are afraid to ask about this iconic adult playground, Hedonism II Resort in Jamaica.
May 14, 2021
Did you know that there's a spike in Open Relationships and Polyamorous Marriage? It may be due to the Covid quarantine, as couples are looking for alternative ways to "save their marriages" by adding a consensual person or people to their relationships. Join us as we participate in a Sexpert Panel Discussion moderated by Dr. Ava Cadell from LoveUniv.com, all about Open Relationships – Understanding Polyamory, Monogamish and Unicorns, together with 5 other Sexperts in this field: Dr Eli Sheff, Dr Carol Queen, Dr Nancy Sutton-Pierce, Tamara Bell and Erika Jordan. Follow the Sexpert Panel for FREE at https://www.loveuniv.com/sexpert-panel


March 12, 2021
Are you feeling the pressures of being pulled in too many different directions? Kids, work, parents -- all demanding your attention with no consideration for you and your needs? In the midst of pleasing others, have you lost the one thing that makes you feel like you – your sexual confidence? Join us for a round table discussion with Sex Doctor, Dr Nancy Sutton-Pierce from Exotic Lifestyle Events and Erica Lemke-Pembroke, author of Feel Sexy Again, as we share our views on the common sex issues that women face as a result of being the emotional supporters and providers of others, at the expense of our own needs and desires. Find out how sex educators and sex coaches can help you reclaim your sexual identity and feel sexy again.


October 30, 2020
Are you navigating a new relationship in the midst of this global pandemic and find yourself being pulled in so many directions that you're new-found sex-life is disappearing quickly? Perhaps you're wondering if other couples are having similar challenges. Join us with Holistic Sexologist, Dr Nancy Sutton Pierce, from Exotic Lifestyle Events, which hosts couples retreats at Hedo II, as we talk about how couples therapy has changed since Covid-19 hit. Dr Nancy teaches couples about Conscious Living Sexuality, promoting good communication so that you can share your wants and desires with your partner and enjoy a healthy connection together.


December 11, 2018
Ladies - Are you ready to be empowered to take care of your own needs for a change? Looking for ways to tickle your fancy? Whether it's a facial make-over, a new hair-do, or… a ride on a Sybian… What? Yes. Women's sexual pleasure cannot be tossed aside. Sexual pleasure is very important part of a healthy and happy life. Join us for a round table discussion at the Ultimate Women's Expo in Atlanta, talking about how women today must take responsibility for their own sexual pleasure. Dr Nancy Sutton Pierce addresses the crowd on "Pleasure is a Birthright" presented by Sybian, the ultimate women's sex toy. Bunny Lampert from Sybian shares her insights on the importance of sexual education and Jenn from Geeky Sexy Love adds her points on empowering women to give themselves permission to prioritize sexual pleasure. All this and more...


March 15, 2018

Do you ever wonder what controls her sexual desires? Is it her mood? Her age? Her hormone levels? or all of the above? If you are getting frustrated trying to navigate the breadth and depth of her sexual desires without success, then join us with Dr Nancy Sutton Pierce, Intimacy and Relationship Expert, as she talks about how to unlock the secrets of a woman's sexual desire.


October 5, 2017
What does "sexual freedom" mean to you? Join us as we ask that question live from Naughty in L.A., where Tess & Bob, from Naughty Events and Couples Cruise, have brought the sexy-fun New Orleans spirit to the west coast; as we get together with 750 open-minded couples to push boundaries, explore limits and get Naughty in L.A. and on the Naughty Cruise. Let the good times roll!
January 19, 2017

The holidays are over. Now it's time to start counting calories again. David suggests a 'vagitarian' diet. It works for him… year-round. Now's a great time to ramp up your sex-life to shed those unwanted pounds. How's that for efficiency? If you've ever experience a 'foodgasm' with a spoonful of triple chocolate mousse… you know what we're talking about… then you're probably hyper-sensitive to oral stimulation. And you might have uttered those words, "That was better than sex". However, the debate is on. Join us as we talk about oral sex and debate who gets the most pleasure, the giver, or the receiver?