Den Temin
Last Aired on February 8, 2018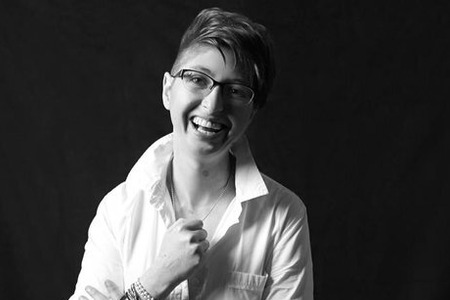 Den Temin is a passionate sexologist, specializing in teaching seminars and workshops catered specifically to lifestyle couples. With a deep desire to transform taboos and stigma to sexual self-empowerment, Den has started a pleasure revolution to change the world one orgasm at a time. Believing that intimacy, vulnerability, and pleasure are transformative Den's life mission is to share knowledge, as well as connect to people with honesty and authenticity. Den is the founder of Sexplore with Den Temin, an organization that is a catalyst for change dedicated to creating holistic, and healthier sex-positive spaces that support sexual self-empowerment. http://www.sexplorewithdentemin.com/
---
---
Episode Links:
February 8, 2018
Is Valentine's Day for people in love… or in lust? We say, "Skip the candy and the flowers and buy a new sex toy instead!" Make Valentine's Day all about spicing up your sex life and enjoying more sexual pleasure, for everyone -- singles and couples alike. Join us on location from Niagara Falls, at the 11th annual Valentines in Niagara Couples Convention, with 600 hedonists, all celebrating Valentine's Day the lifestyle way... with lots of sexy-fun and friendship!
January 11, 2018
Did you know that sex is the universal desire that we all have in common? Sex is our second basic instinct after survival. As we begin to realize that sex education should include lessons on sensual pleasure, stronger orgasms, better performance, and so much more, we turn to sexologists, sex therapists and sex educators to fill in the gaps. These essential sexperts not only help people with sexual problems, they also work with strong loving couples who want to enhance their sex-life and strengthen their relationships. Join us with Den Temin, as we sexplore avenues for learning more about sex, sexuality, sexual pleasure and relationships – all with the goal of spicing-up our sex-lives and living happy healthy and horny.
October 12, 2017
Have you ever fantasized about taking an adults-only luxury cruise? How about a clothing-optional, adults-only luxury cruise -- with other open-minded couples aboard? Well, you're not alone. Join us as we broadcast from The Naughty Cruise, sailing from Los Angeles to Ensenada and back, with 800 sexy couples aboard, talking about all the sexpert workshops, naughty pool parties and a whole lot more.
July 27, 2017
Are you looking for a sexual pleasure revolution? Sexploring yourself and your partner with new sexy-fun techniques and positions can help you improve your communication and make you feel sexually self-empowered. From developing body confidence to overcoming performance anxiety and jealousy, naughty sexologist, Den Temin, can help you with her hands-on sexual workshops. Join us as we Sexplore with Den Temin, discussing her unique hub of sexual innovation.