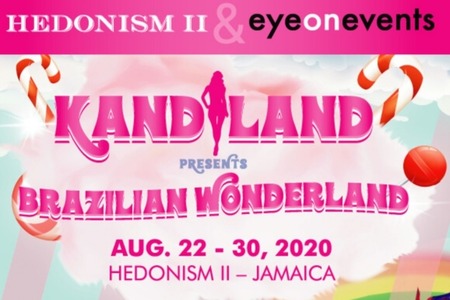 KandiLand Presents Brazilian Wonderland
01 Jul - 02 Jul
All Day
Location:
Hedonism II Resort
---
This event has passed
Check out our Current and Upcoming Events
Hedonism II Resort
KANDILAND PRESENTS "BRAZILIAN WONDERLAND"
August 22, 2020 to August 30, 2020

Once a year, magical gates open for all to see, a world of wonder and fantasy. A playground filled with sexy mayhem & decadence…
4th Annual KandiLand Party
Welcome to our 4th Annual KandiLand party where this year's theme is "Brazilian Wonderland"! Pursue your pleasures during deliciously wicked nightly costume theme parties and fun daytime activities.
Win A Date with a Playmate
Have you ever wanted to Win-A-Date with a Playmate? Well now is your chance to do so during our silent Charity Auction or maybe you want to partner up with a Kandy Doll for the Speed Dating Scavenger Quest competition or go on a catamaran cruise with her, the adventures are endless when in paradise.
Ms. Kandy Doll Bikini Contest
Then root for your favorite girl as the Playmates battle the Kandy Dolls and the Brazilians for the title during the Ms. Kandy Doll Bikini Contest.
SocaPalooza
Then party under the stars during the sexiest "SocaPalooza" Wonderland Fantasy Carnival party on the planet.
This is one sweet destination event you don't want to miss!
For DISCOUNTED RATES CLICK HERE.


**Regular hotel theme nights will be changed for this week ***