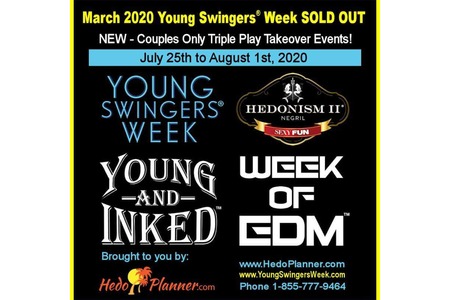 Young Swingers Week - Hedonism II, Jamaica
07 Apr - 08 Apr
All Day
Location:
Hedonism II Resort
---
This event has passed
Check out our Current and Upcoming Events
Hedonism II Resort
July 2020 Young Swingers®
Week



July 25- August 1st, 2020
Party like it's Spring Break! Participate in as many events as possible to make the most of your lifestyle vacation. There are nude pools, clothing optional pools, all-inclusive bars, and an array of activities going on throughout the day. Plus, you can go snorkeling, sailing, kayaking, and paddle boarding most anytime during the day.
Young Swingers® Week is about being young, wild and free, at one of the most amazing resorts you'll ever visit, Hedonism II Resort, Negril Beach, Jamaica.
If experiencing new fantasies, temptations, and interests is what your young heart desires, then you don't need to look any further. Young Swingers® Week gives younger people the opportunity to try new sexual experiences in the lifestyle with other couples, make wonderful new friendships, and hopefully start a yearly tradition for many years to come.
Young Swingers® Week encourages people to hang out for a week with others that grew up on the same movies, music, TV shows, styles and trends from their generation. Allowing people to meet others who graduated college around the same time, got married around the same time, and started their families at the same time. It's all about finding compatible couples based on age.
Get Wicked for a Week with Young Swingers® three times a year - March, July and October.
CALL: 1-855-777-9464
WWW.HEDOPLANNER.COM