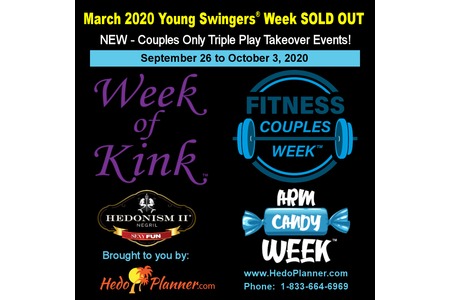 Triple Play - Hedonism II, Jamaica - September 2020
05 Apr - 06 Apr
All Day
Location:
Hedonism II Resort Jamaica
---
This event has passed
Check out our Current and Upcoming Events
Hedonism II Resort Jamaica
"TRIPLE PLAY" IS 3 EVENTS IN ONE
Open to all ages, this new Triple Play Event is presented by the same organizers as Young Swingers Week with the same top shelf entertainment. Choose one group or all, it going to be the best party of your life.
1. Week of Kink
Week of Kink™
This event has been greatly anticipated! Taking the theatrics and entertainment to new levels, Week of Kink promises to be tittilating to the senses! Get kinky with other kinky couples in a clothing optional atmosphere.
With seminars on Sensory Deprivation, Bondage and Restraints, Role Play, and Power Exchange.
Theme Nights of Steampunk, Cosplay, Foam Party and More!
Make sure to book all week to stay for "Foot Fetish Friday"!
Full Resort Takeover at the all inclusive, clothing optional Hedonism Resort II in Negril, Jamaica!
This is a Couples Only Group. Tens of Thousands spent in Extra Entertainment and Swag, with 7 Outdoor Dance Parties!
Seminars, Speed Dating, Convention Style Check-in, Sponsors, Vendors, Dancers, Singers, DJs, Daily Contests, MCs and more.
Spend your days enjoying the Caribbean water, nude beach, clothing-optional pools and amazing atmosphere.
You will have access to plenty of entertainment, music, and more.
Food, drinks and top-shelf liquor are part of this event's package. You must be 18 years or older to book this event.


Arm Candy Week™ for Your HOTWIFE, Baby-Girl, or Princess
Give your ladies an all-inclusive, clothing-optional vacation to Jamaica they will never forget.
Meet new friends and enjoy fun in the sun at this amazing, all-inclusive event.
All food and drinks are included, even top-shelf liquor! Couples must be 18 years and older.
Take advantage of the resort's amenities, including pools, fitness center and dining areas. Clothing optional areas exist around most of the resort, as well as a nude beach and nude pool.
Fitness Couples Week™ at Hedonism II
Meet other couples who are also into Fitness at an All-Inclusive, Non-Judgmental, Clothing-Optional resort in Jamaica.
This is the week for couples who are into fitness together. Whether you enjoy the gym, yoga, running, crossfit, triathlons, or other fitness activities this is the week for you. Hedonism II has an amazing selection of heathly meals to keep you reaching your fitness goals while you are a tropical vacation.
Theme Nights
Follow our website to stay informed about Theme Night updates so you know what to bring!