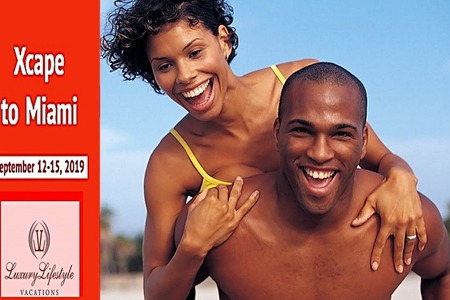 Miami, Fl
Join us and our hosts LLV in our very own city of Miami at the lavish and enticing atmosphere for open-minded couples, complete with topless pool parties hosted by lively DJs, world-class cuisine and exquisite amenities. Experiment and test your boundaries at one of our nightly themed parties where another chic, confident and free-spirited travelers are eager to make new connections. Or, indulge in our unique and inviting play areas populated with other sexy guests looking for an adventure.

Whether you're looking to enjoy the incredible oceanfront views or titillating people-watching, our unique twist of Latin flavor on this sexy getaway will make it the most memorable three nights you've ever spent in Miami. We're waiting for YOU to join us and 150 of our closest friends for an uninhibited and unforgettable adults-only escape you won't soon forget.
As if the location in the center of South Beach wasn't enough, this Resort in Miami Beach offers an incredible assortment of hotel amenities, guaranteed to impress even the most seasoned traveler. From the delectable daily Continental breakfast to free hotel-wide Wi-Fi and an outdoor pool unlike any other in the city, on-site perks are sure to have you looking forward.

Dive into the swimming pool for a refreshing dip after a day of exploring Miami.
The elevated pool features unique viewing portholes, and is surrounded by a beautiful sundeck fringed with tropical coconut palm trees. Enjoy a cool beverage by the pool while you soak up the Miami sun.
Stop by The Café for breakfast or lunch, enjoy a cocktail at Repour Bar & Lounge, or ask us about our room service options.

You'll need to keep your strength up if you want to fully enjoy South Beach's legendary nightlife. The on-site fitness center features a treadmill, an elliptical machine, a hybrid bicycle, an adjustable multi-function bench, and free weights.