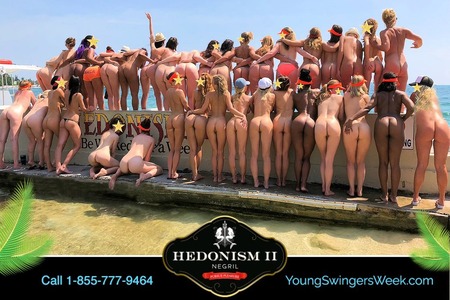 Young Swingers Week at Hedonism II Jamaica
20 Jul - 27 Jul
All Day
Location:
Hedonism II Resort
---
This event has passed
Check out our Current and Upcoming Events
Hedonism II Resort
Young Swingers Week at Hedonism II
https://www.YoungSwingersWeek.com - Watch Swing with Holli and Michael on Playboy Radio interview guests and Marina Valmont and Shannon Blake of the Naked News, plus DJ Cerino at the March Young Swingers® Week "YSW" event at Hedonism II in Negril, Jamaica.
Young Swingers® Week - YSW
Young Swingers® typically want to swing with people and couples in their age bracket, plus have similar interests and experiences. That is what started Young Swingers® Week. There are 50 other weeks you could visit Hedonism II, but will there be other couples in your age range to swing with?
What Age Range are Young Swingers®?
With our previous events, the average age range of our attendees has been 20's, 30's and younger 40's. Please take in consideration that many of our attendees were born in the 80's and 90's, so this is really a week for them to associate with people in their own peer group and age range. Everyone who goes to Hedonism is "Young at Heart", but this is the week for "Young People to Unite at Hedonism". We had so many compliments at our last event from people in their 20's and 30's stating, "this is the first event that I did not feel like the youngest person", and how much they "loved that". 18 years old is the minimum age for the event, and the drinking age in Jamaica is 18.
Necklaces Just for You
To start off your first day with the Young Swingers® Group, pick up your Name Necklace, Hat and Bag. The necklaces have colored beads which you can choose according to your interests: GREEN is for we're open-minded, RED is full-swap situational, and BLUE is as much action as possible. (Situational means that the moment and the people must be the right fit.) It has been close to a 50/50 split with Green vs Red on reservations that have already been made. This will help like-minded people find what they desire. It is important to wear your necklace, after all there's a lot of names to try to remember, especially trying to do so after being at the bar and pool all day. Plus, you will need them to attend our events.

Click here to book: https://www.youngswingersweek.com/october-hedonism.html