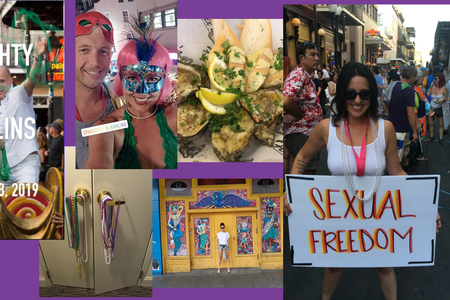 Naughty in N'awlins 2019
24 Jul - 28 Jul
All Day
Venue:
The Crown Astor
Location:
New Orleans, LA
---
This event has passed
Check out our Current and Upcoming Events
New Orleans, LA
Did you see our footage from our trip to Naughty in N'awlins 2018?
If you did, I am sure you won't want to miss out on 2019!
We are already planning on going back (yes - that's how much fun it is) and we want to bring some sweet people with us!
If you SIGN UP NOW you will receive $100(US) credit which is huge for us Canadians!
This will be the lowest price available for next year's event and it will guarantee you a spot in our main hotel.
A LITTLE ABOUT NAUGHTY:
Naughty in N'awlins is the largest lifestyle convention for couples, in the world. With over 2,500 people, this event is not only a full takeover of one of the French Quarter's biggest hotels, it takes over Bourbon St.
Everyday there are seminars, workshops, bar takeovers, themed balls and the sexiest playrooms we have EVER seen! We saw wet t-shirt contest, foam parties, naked bull riding and a Ms No Swimsuit contest. Honestly this event has it all and more - IT IS MORE THAN JUST A PARTY!
Contact us with questions - otherwise sign up here and cummmmmm with us!
BOOKING INFO:
Price: $699.00USD - book early for $599.00USD
ticket price does not include the price of the room
Hotel Costs: Astor Main - 2 Queen/King $165 (options for suites available)
Alex Tower - 2 Queen/King $165
Overflow 1 & 2 - TBD
There is a 3 night minimum stay of Thursday, Friday, Saturday nights to attend this event. Package price does not include cost of room. The hotel will charge you separately for your entire stay 45 days prior to arrival.