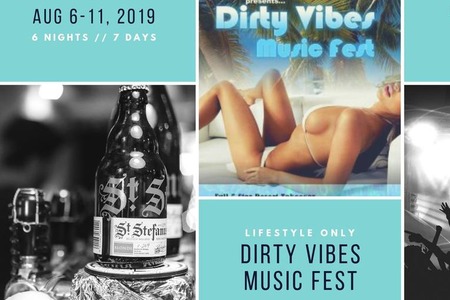 Dirty Vibes Music Fest 2019
06 Aug - 11 Aug
12:00am - 12:00am
Venue:
Desire Pearl
Location:
Desire Riviera Maya Pearl Resort
---
This event has passed
Check out our Current and Upcoming Events
Desire Riviera Maya Pearl Resort
Dirty Vibes is a electrifying summer music fest with erotic dirty disco style group theme nights hosted on the caribbean sea for a topless/au naturel music fest. Dirty Vibes is catered toward open minded couples and single females. You set the tone as nothing is to mild or wild. The event is centered around a 5 star premiere lifestyle resort, gourmet food, top shelf alcohol, uber sexy guest list, day and night time pool parties, huge stage poolside, foam pool party, special after hours play room and over 10 dj's spinning throughout the week. This is a caribbean music fest so you will hear music genre's including reggae, old school rock, edm, dance remixes, mashes of the classics, hip hop (not rap), techno, latin and anything that puts the body in motion.

Group Trip Highlights
Three speciality restaurants, Aphrodite, Pearl and Unik Gastro Bar included in your reservation.
4 Bars- Lush Pool Bar, The Wet Spot (hottub bar), Agave Bar and Obsession bar inside Obsession Night Club. For Music Fest we will also build out another pool area bar as well for the night time pool parties.
3 Some's- Single ladies are allowed, either traveling alone, accompanied with another girl or with a female-male couple.
Itsy Bitsy, topless, bottomless, nude or however you desire is allowed for this event.
Rendezvous playroom created for Dirty Vibes Music Fest- open nightly
Special Music Fest theme nights will be posted in the future.
Package includes admittance to all features of the music fest.
All rooms have ocean views
Renowned Spa for those who like to be pampered
Gym and aerobic area located by spa.
Plus a 5 star rated resort staff that will cater to your needs at any hour.
2019 will feature over 10 dj's at what has become known as one of the world's sexiest clothing optional lifestyle resorts. We hope you can join us for what will be an incredible experience of music, dance and sensation.