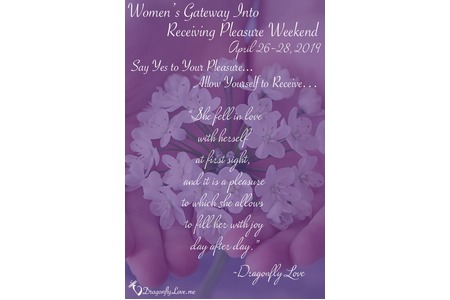 Women's Gateway Into Pleasure - Tampa Bay, FL
26 Apr - 28 Apr
7:00pm - 5:00pm
Location:
Tampa Bay, Florida
---
This event has passed
Check out our Current and Upcoming Events
Tampa Bay, Florida
Women's Gateway Into Receiving Pleasure Weekend
Florida
April 26-28, 2019
""She fell in love with herself at first sight, and it is a pleasure to which she allows to fill her with joy day after day." — Dragonfly Love
NO ONE is sexually broken. You too can have the pleasure you desire with the right education.
It's in YOU… walk the path through the gateway of your pleasure!
Come work with Dragonfly a Somatic Sexologist, Certified Sexological Bodyworker, Somatica® Practitioner & Women's Empowerment of Pleasure Advocate, where she will start you on the path to receiving the pleasure in your body you have wanted and desired for so long.
Sometimes we can feel paralyzed and detached when it comes to experiencing joyful sex, asking for what we want sexually and living our true desires for what fills our bodies with bliss. Sometimes we don't know what that looks like or means to receive true pleasure in our bodies because of all the messages or trauma that has happened in our lives.
Women, there is education that will transform, awaken and connect us to the pleasure that we desire to feel every day of our lives within every part of our lives. We can integrate our hearts, minds, voices, and genitals when given the proper tools and practices to do so... Dragonfly welcome's you on this beautiful path of pleasure.
Who is this gateway weekend for? ALL Women
Women of all ages (18+), all shades of the rainbow, all shapes & all sexual orientations who are looking to have more pleasure in their lives.
What Benefits will you receive from attending?
Learn in a Safe & Supportive Nurturing Environment
Start on your path to sexual healing and erotic expansion.
Mindful education surrounding receiving pleasure with your body and why you are not currently getting it.
Empower your body and mind through experiential practices.
Begin to integrate sexual wholeness into your life.
Understand what it means to feel connected to the full experience of your arousal and sexuality.
Experience what it truly means to receive in your body and to develop a conversation surrounding positive sexual self-talk.
Relax into the connection of the sister goddess community and learn about future opportunities for further retreat immersion experiences.
When? April 26-28, 2019
Friday 7 PM - 9:30 PM
Saturday 10 AM - 5 PM
Sunday 10 AM - 5 PM (After Pool Party Celebration Immediately Following!)
Where? North Tampa Bay Area, Florida (private home, specific location sent upon registration)
Investment: $425
Accommodations: Off-Site (list of nearby hotels sent upon registration)
Nutrition: Drinks, Snacks & Lunch Provided (please let me know if you have food allergies and/or dietary restrictions for lunch preparations)
Yes, I want more pleasure in my life! Book My Space