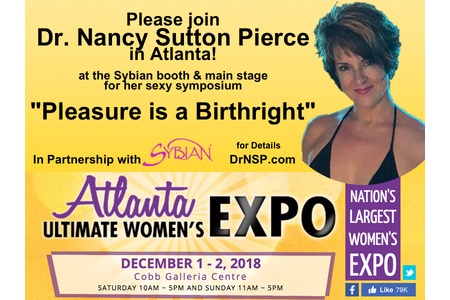 Ultimate Women's Expo - Pleasure Is A Birthright
01 Dec - 02 Dec
10:00am - 5:00pm
Venue:
Cobb Galleria Centre
Location:
2 Galleria Pkwy SE, Atlanta, GA 30339
---
This event has passed
Check out our Current and Upcoming Events
2 Galleria Pkwy SE, Atlanta, GA 30339
ULTIMATE WOMEN'S EXPO – ATLANTA
Saturday, December 1; 10a-5pm
Sunday, December 2; 11a-5pm
Dr. Nancy, in partnership with Sybian, will be presenting "PLEASURE… IS A BIRTHRIGHT" SEMINAR on Main Stage during the EXPO. She will also be available for Q&A at the SYBIAN BOOTH throughout the weekend.
This is empowering information about sexuality and pleasure. Find out what your body is telling you, how to honor your wants, needs and desires, & what you are entitled to by birthright!
"A Healthy Sexual Life is A Healthy Vibrant Life"
Dr. Nancy brings a refreshing approach to a very delicate topic – our sexual lives. She holds a doctoral degree in human sexuality, is a registered nurse, health & wellness educator & sensual yoga therapist for over three decades. She is also an international speaker and CEO of ELR – Exotic Lifestyle Retreats to Empower ~ Love ~ Reawaken Women & Those Who Adore Them.
Dr. Nancy shares scientific as well as practical information about women's sexual anatomy, desires, confusions, challenges, orgasms, fears, healing and more. Her honest and professional delivery will not only help you feel instantly comfortable, you'll feel safe asking sensitive questions. Men are welcome to come learn and gain new insights into women's sexuality. (We will offer a Men's Sexuality Class Next!)
"Sex Energy IS Life Energy"
About Dr. Nancy:
An international speaker, Dr. Nancy brings a unique perspective to help individuals and couples redesign their attitudes about their sexuality and their intimate relationships. She began as a registered nurse (with many years in women's health, Obstetrics, Diabetes Management, & Health & Wellness Education) and has continued to add tools to her kit by studying and teaching yoga as a yoga therapist and earning her doctoral degree in Human Sexuality. Her ever evolving philosophy about human equality, personal empowerment, self reliability and the much-needed freedom to be authentic, weave exquisitely throughout her teachings. In any given sentence you may hear the nurse, yogini, teacher, woman, and doctor all speaking to you.
She values deep discussions and never blushes at any question tossed her way. Her gifts are her open mind, wicked sense of humor, endless curiosity and willingness to hold space for you to be you (and hold you while you cry). Her flaws include, but are not limited to, wearing her heart on her sleeve and being a sucker for anything exotic. She is a fearless leader in the area of healthy human sexual rights and fiercely advocates for respect, loving kindness, and equal treatment of all people – even the unlikable.
Dr. Nancy is the Yin/Yang of Educational and Therapeutic Sexology, guiding clients and students into the body, mind & spirit to fully embrace the experiences of life, love, pain and pleasure, and to find the pearls among it all.
All totaled, this is her Conscious Living Sexuality Fusion. It's loving, healing, and life affirming!
Her company, ELR – "Empower ~ Love ~ Reawaken" also creates Exotic Lifestyle Retreats (ELR) for Women and those who adore them!
Ultimate Pleasure….It's always right at your fingertips.
Get to know our sexual anatomy inside and out so you are equipped to receive maximum pleasure! Gain insights about body image and the external forces stimulating doubt and shame. Learn how miraculous you are with the potential for more pleasure than we ever knew possible!
It's your turn, it's your time!
The conversation throughout the weekend will include concerns regarding the #MeToo movement and misunderstandings around this topic. She will share insights and tactics for us to enthusiastically move forward in a positive light. Ample time will be allowed for questions; both anonymously & in an open forum. Our intention is for you to leave feeling empowered and celebratory about your sexual and Intimate life!
JOIN US THERE!
Dr. Nancy is proudly partnered with Sybian and will have a booth on site for you to learn more about one of the most powerful intimate health & wellness devices on the market today.
Get to know the pleasure device that has been making women and couples happy for 32 years!