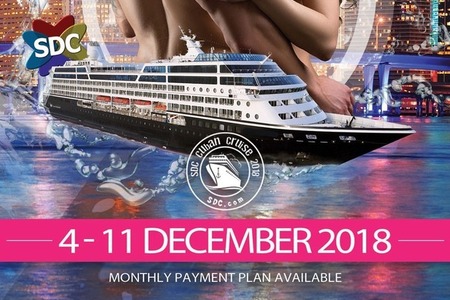 SDC Cuban Cruise - December 2018
04 Dec - 11 Dec
All Day
Venue:
Luxury Cruise Ship
Location:
Port Miami FL
---
This event has passed
Check out our Current and Upcoming Events
Port Miami FL
SDC Cuban Cruise
Join SDC Travel and hundreds of amazing couples from around the world on this once in a lifetime cruise! SDC CUBAN CRUISE 4 – 11 Dec 2018 (8 Days / 7 Nights)
Miami is the city/party hub from which we embark on this larger than life adventure. Sip a daiquiri in Hemingway's hometown of Key West before we open the door to the soul of Cuba and more. Enjoy spicy Caribbean rhythms, vintage cars and untouched beaches. Best of all, simply savor all those hot couples that SDC has to offer! BOOK NOW
SDC Cuban Cruise
Nothing beats this tropical cruise! Feel the lifestyle vibe and explore places where yesterday lives today. We're heading out to a truly unique corner of the world. BOOK NOW
Start off in Miami
Miami is the city/party hub from which we embark on this larger than life adventure. Sip a daiquiri in Hemingway's hometown of Key West before we open the door to the soul of Cuba and more. Enjoy spicy Caribbean rhythms, vintage cars and untouched beaches.
Dec 4-11, 2018
On this SDC cruise from December 4 - 11, you will visit, Miami, Key West, Havana, Cuba, Nassau Bahamas and the private island of CocoCay!
Themed Parties
Get ready to experience, foam parties, deck parties, erotic live shows, sexy theme nights, seduction classes, playshops, sensual playrooms and much more.
Sexy Couples
Best of all, simply savor all those sexy couples that SDC has to offer!