Swinger Lifestyle Vacations
Written by Sex Uninterrupted on Nov 20th, 2018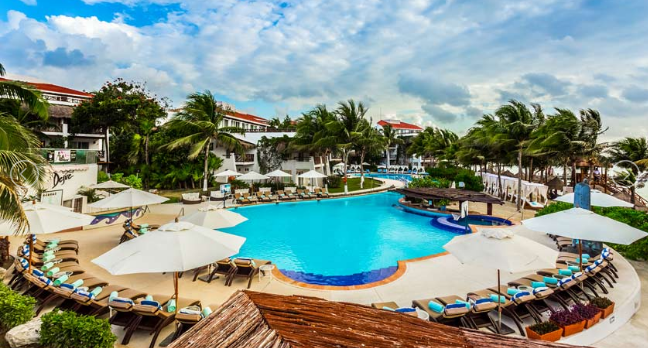 Travel is a HUGE part of the lifestyle! There are so many companies, groups, destinations, takeovers...it can be overwhelming! Especially for someone that is new.
I know when we went on our first Lifestyle vacation ins 2015 to Hedonism II I was so nervous and had no idea what to expect - it can be scary! But it was so worth it and it was so much fun. It also encouraged us to grow and do more fun things once we got back home.
In this article I plan to give you the tips you need to have an awesome Lifestyle vacation (based on experience) and provide info to help you decide what the best trip is for you!
Things You Should Know About Lifestyle Resorts
These destinations are always ADULT ONLY! There are no children allowed!

Some are full nudity and some are topless only.

Sexually themed games that are popular and people usually dress a lot sexier.

Not everyone who visits these places are lifestylers – some go just to enjoy the more upbeat and fun atmosphere.

Most have designed "sex spots" or play rooms.

Sometimes an event is organized at a hotel and a hotel takeover happens. You can see this with companies like Naughty Events when they organize Naughty in N'awlins at two New Orleans hotels.

People come to these events from all over the world! It's a great way to meet others outside of your local space.
What To Expect, Our Experiences and More!
The nice thing is everyone is from somewhere different so that is an easy way to strike up conversation with anyone new. Remember everyone is on vacation! We recommend asking people where they are from - it's our favorite conversation starter.
Expect to encounter a variety of couples who like to experience different things in the lifestyle. Just like clubs, there are some people who only want to watch, some who just like the "freeing" atmosphere and some who love full swap. Again – ask! Again - good conversation starter! "What brings you here?"
Most places and events have theme nights so do some planning and try to create an outfit together to wear. It's fun to be a part of the community! It is also a great conversation starter!
I used to experience lots of anxiety leading up to taking a big LS trip. To help with this I started making lists and planning months in advance. For me it's important to feel sexy on our trips so I make all my beauty appointments (like hair, nails, etc.) FAR in advance to ensure I get in!
Conversations tend to be less superficial when you are naked! We had so many great naked conversations with people!
Other good tips to keep in mind:
You are not going to wear all the clothes you bring!!! Every time we go somewhere I over pack!

Don't go hard the first night! We know it's tempting BUT!

Drink lots of water! Partying and fucking make you sweat :P

Use your resources at the resort (aka staff) to help with questions you may have. Don't be shy, they are there to make you feel comfortable and relaxed!

Consent still applies on vacay! Make sure BE CLEAR! Get a hell yes!

Bringing a party with you is a great idea – if that's not possible, look on

Kasidie

(

use referral code azsexy for 30 days free

) to see when there are groups booking. It makes a big difference.
Expect to never want to go to a vanilla vacation after attending your first Lifestyle vacation - seriously they are THAT good!
What Are Some Lifestyle Resorts or Cruises?
Hedonism II (Jamaica)
In Negril, Jamaica along 7 Mile Beach

Great resort & very beautiful location

Friendly staff

Go during the busy season (if traveling alone)

All inclusive.

No tipping allowed.
Desire Resort & Spa and Desire Pearl Resort
Both are located in Mexico in the Riviera Maya

Fly into Cancun

Both are 21+

Both are all inclusive

Desire Resort: If you choose to go topless or naked- in the pool, at the beach or at the roof-top Jacuzzi Lounge, you may certainly do so. Have 2 sexy areas – the Sin Room and Jacuzzi Lounge

Desire Pearl: It is more of an upgrade, it is the deluxe all inclusive.
Temptations Resort
Located in Cancun, Mexico

All inclusive

21 and over

Resort's swimming pools are topless-optional. Temptation is a topless optional hotel, however sometimes our guests might get carried away and take away their clothes off in some of our most daring activities such as: Wild tequila volleyball, Miss Temptation, Belly flop, Daring darts and anything goes.

I don't think there are any sexy play areas.
Swinger Lifestyle Cruises
These are super popular! Most sell out about a year in advance.
It is whole cruise takeovers.

There are several companies to choose from: