Sacred Intimacy & Erotic Communication Retreat
Written by Dr Nancy on Nov 23rd, 2018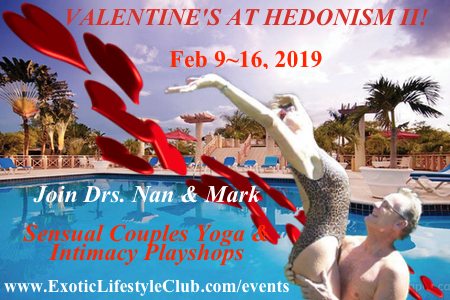 VALENTINE'S WEEK AT HEDONISM
BOOK YOUR TRIP TODAY!



"Sacred Intimacy & Erotic Communication Retreat"
Joining Hedonism II's Valentines' week once again are Drs. Nan & Mark. They will be offering daily couples seminars, interactive experiences, sharing circles, sexycise classes (couples yoga), and intimate communication techniques all designed to deepen intimacy, safety, trust, respect, and the capacity for an even more fulfilling relationship.

The Sexycises are fun, and improve your physical, emotional and mental strength and flexibility; as well as help ease some of the sex injuries and hangovers known to happen at Hedo! [wink}
Dr. Nan is a Doctor of Human Sexuality as well as a Sensual Yoga Therapist and Health & Intimacy Expert. She is an international speaker, TV and Radio personality, & author and has a personal gratitude to the Hedonism concept for her own personal awakening.
Dr. Mark is an Internal Medicine Doctor, a Yoga Therapist and a 5th degree Black Belt in Kenpo Karate. They have been married since 1993 and have always worked together in some capacity - part of which includes teaching together at Hedonism since 2006. This is a very special week of deepening your intimate connection, pushing your boundaries and learning new sexy tools to keep it hot for the long haul!
Dr. Nan is also the CEO of Exotic lifestyle Events hosting retreats around the world, with Hedonism II as her favorite place to be and teach.

Remember, February is high season and the resort always sells out far in advance. If you want to be a part of the classes, please contact Dr. Nan DrNanELEvents@gmail.com directly to inquire about preregistration and any costs associated with the playshops.
If you are new to Hedonism II, Nan & Mark will help you navigate the new Hedo Waters so you can each find what you're looking for and bring a new spicy energy to your relationship long after the trip has ended.
Sample Itinerary (subject to change)
Saturday Feb 9, 2019 -

Check in Day - Informal meet and greet 8pm Main Bar

Sunday Feb 10th -

Introduction to the Week of progressive (Sexycises for Lovers) sensual yoga and sexy seminars to deepen intimacy and enhance playfulness.

11a-11:45a: Sexycises for Lovers - "Connect through Breath"

12n-1pm; Sexy Seminar #1 "Consent and Pleasure" Navigating the Hedonism Lifestyle 101

Monday Feb 11th -

11a-12:30p: Sexy Seminar #2 "Ask For What You Want" Communication techniques using all the senses, including language.

Tuesday Feb 12th -

10:15am - Catamaran to Cave Day Optional Excursion ($60/pp) Sign up at Tour Desk

Wed Feb 13th -

11a-11:45a: Sexycises for Lovers - "Connect through Touch"

12n-1pm; Sexy Seminar #3 "Intimate Sacred Secrets of Men and Women" Bring a towel, coconut oil or favorite personal lubricant.

Thur Feb 14th -

11a-12:30p: Sexy Seminar #4 "Special Valentine's Seminar for Lovers - A Guided Erotic Experience"

7-8:30pm - SACRED VALENTINES DINNER - FLAME GRILL

Friday Feb 15th -

11a to 11:45a: Sexycises for Lovers - "Connect through the Heart"

12n-1p - Sexy Seminar #5 "KEEPING IT HOT FOR THE LONG HAUL" How to take the Hedo Heat Home! The ReEntry Program, Feedback, Sharing and Closing Circle.

Saturday Feb 16th -

Departure Day - Book your trip for Feb 8-15, 2020 this week and get 2019 rates! Ask for special form to be completed before you depart for home.