Carol and David are here to help you spice-up your sex life and live HAPPY, HEALTHY and HORNY. Listen to our Internet radio show: "THE SEXY LIFESTYLE with Carol and David" on VoiceAmerica.com, LIVE every Thursday at 4:00pm Pacific / 7:00pm Eastern. Or Listen on-demand. It's FREE. GO TO our "Ask Carol and David" page or send us an email at ask@carolanddavid.com and ASK us a question about YOUR Sexy Lifestyle and Relationship. Its never too late to start again!
Re-Connect. Be Present.
With yourself and your partner.
Explore Your Limits.
Your desires… your feelings… yourself.
Push Your Boundaries.
Express. Explore. Experience.
Fulfill Your Fantasies.
Empower your imagination. Set it on fire!
Carol and David Love The Sexy Lifestyle
Carol and David are a strong committed couple, and passionate about making their relationship the best it can be. Experts on the swinging lifestyle and real-life swingers themselves, they are a fun-loving couple with the goal of inspiring others to live happy, healthy, and horny, every day! As radio hosts of "THE SEXY LIFESTYLE with Carol and David", they share their unique perspective on living sexy, pushing boundaries, fulfilling fantasies and more. Through uncensored and honest discussions about great sex, passion, and intimacy, they explore all aspects of the modern-day couple. Listen now.
The Sexy Lifestyle Channel
Brian Sloan, inventor of the Autoblow2, hosts the world's first vaginal beauty competition.
Betty Dodson draws the internal clitoris to show how the structure looks inside the woman's body. With full explanation of all the parts.
Chandler needs a little help from his friends. Monica and Rachel show Chandler where to find women's 7 erogenous zones.
The Sexy Lifestyle Expert Advice
Happy
The early days of a relationship are a time of high energy, creativity and endless nights. It's a beautiful time in our lives. We feel alive and vibrant.
Healthy
If you've always wanted to go to a nude beach but you're not sure if you have the confidence to strip down and hang out 'au naturel' with your friends, then these tips can help you.
Horny
'We make sure we're in the same pile at orgies' Swinging neighbors who found love after they were dumped on the SAME DAY…
Upcoming Events
Sex Expo is an upscale consumer Expo dedicated to the promotion of sexual wellness through proven sex-ed and quality intimacy products. ...
Let's get Naughty in L.A. This is our first "Naughty" event in Los Angeles and we are going to do it up right! Join Carol and David with Vanilla Twist Travel Group. Sep 30-Oct 7, 2017 BOOK NOW ...
The Norwegian Pearl, will be your playground for an incredible sexy experience sailing Oct 3rd from the port of San Pedro, Los Angeles. BOOK NOW ...
SDC Lifestyle Cruise - Caribbean Dream - Dec 9-16, 2017. Come join us on this lifestyle cruise and sail trough the exotic turquoise blue waters of the Caribbean, while enjoying all the erotic pleasures of this sexy tropical bliss vacation. ...
No event found!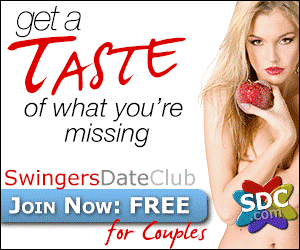 Featured Video
Brian Sloan, inventor of the Autoblow2, hosts the world's first vaginal beauty competition.