Promescent - USA's leading solution for premature ejaculation - FDA approved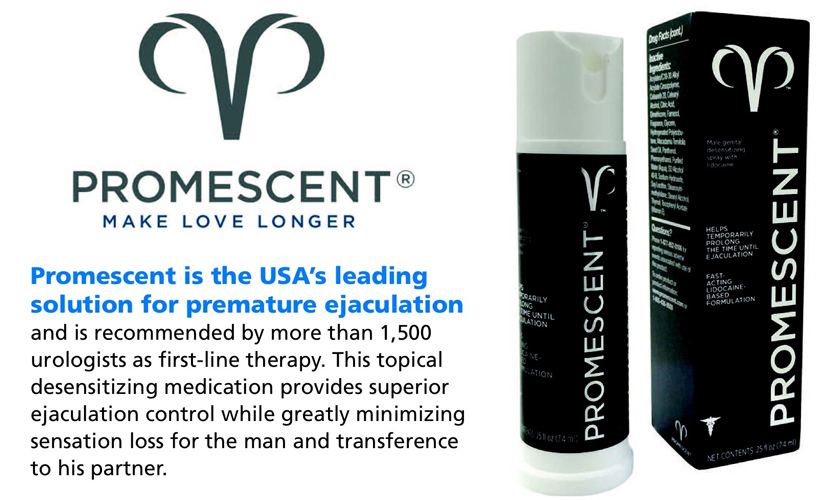 Imagine longer sex sessions
where you're both totally satisfied.
Imagine
more control
than ever with an added bit of confidence in the sack.
80 percent of women wish their partners would last longer in bed. Promeschent makes that wish a reality. It's now proven; you can make love longer with Promescent, the market leading climax control spray.
CLOSE THE ORGASM GAP
During intercourse, the average man reaches orgasm in about 6 minutes, while women take closer to 20 minutes. The result is the Orgasm Gap, where men orgasm about 98% of the time compared with about 25% for women. Promescent closes this O-Gap by helping a man delay ejaculation long enough for his partner to reach orgasm. And everyone knows that more orgasms results in more sexual satisfaction. And, for you guys, more partner orgasms equals more sex!
CONVENIENT AND SUPER EASY

It's simple. Just three or more sprays to the head and shaft of your penis – no more than 10 sprays, though. Promsecent takes effect after about 5–10 minutes – the perfect time to engage in a little foreplay before really getting into it.
TECHNOLOGY THAT GIVES YOU CONTROL.
What makes it work so well? Promescent has patented TargetZone™ technology. You can apply it within a small area without transferring it to your partner. So you get control while keeping next–to–normal sensitivity. It's a little extra help to delay that orgasm and stay in synch with your partner, making for longer sessions in the bedroom.
RUN YOUR OWN MARATHON SESSION
Promescent's enhanced absorption formula reaches the nerves that impact the time to ejaculate for greater orgasm control. It lasts about 30–60 minutes, depending on dosage. And as you experiment, you'll soon discover the ideal number of sprays that make for the perfect night. After all, not all couples like to go on, and on, and on.
---