Young Swingers® Week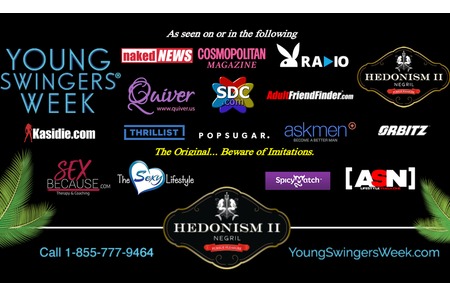 Young Swingers® typically want to swing with people and couples that are in their age bracket, plus have similar interests and experiences. That is what started Young Swingers® Week. There are 50 other weeks you could visit Hedonism II, but will there be other couples in your age range to swing with?

* Sexy Theme Nights, Fun Swag, Crazy Games, and tons of Entertainment.
Young Swingers® Week is about being young, wild and free at one of the most amazing resorts you will ever experience. Hedonism II is an all-inclusive resort including food, liquor, beer, and entertainment with no tipping. These items usually wind up being the most expensive part of a vacation. Besides you are at a nude resort, so who wants to carry cash or credit cards? This is ALL INCLUSIVE...

* What age range are Young Swingers®?
20s, 30s and younger 40s is the age range.
Visit the Attendee Age Graph https://www.youngswingersweek.com/age-graph.html

* Beaded Swinger Name Necklaces
All of the attendees at the Young Swingers® Week event will receive a beaded necklace that will have your name on it, so people can get to know each other easier. The necklaces have colored beads which you can choose according to your interests: GREEN = Open-minded, newbie, soft swap, nudist, RED = full-swap situational. (Situational means that the moment and the people must be the right fit.) BLUE = desiring as much action as possible. It has been close split on the colors of the reservations that have already been made. Additionally, beads can be added to the necklace; WHITE = Hall Pass can play alone, PINK = Girl who really likes girls, PURPLE = Bisexual male or female, BLACK = BDSM and kink. This will help like-minded people find what they desire.

* Theme Nights and Events
We have different theme nights every night for dinner and the after parties. Better yet, almost everyone participates in the theme night outfits. Some of the themes are Fetish Night, Glow Rave Party, Naughty School Girl, and Toga Party. Our events include such favorites as Naked Goat Racing, Foam Party, Naked Twister, Pole Dancing Contest, Couples Speed Dating and Sexy Seminars.

* Check Below for Room Availability and Reservations
https://www.YoungSwingersWeek.com

Contact us immediately with any questions you may have, or to help set up your reservations. RSVP TODAY!

Please check back for event updates as each event date draws closer.

https://www.YoungSwingersWeek.com/

Business Info:
Business Type: Travel & Entertainment
Business Category: Alternative Lifestyles, Club, Conventions, Dating, Entertainment, Kink & BDSM, Marketing & Advertising, Media & Press, Millennials, Network Sponsor, Seminars & Retreats, Sexuality, Travel
Website 1: https://www.YoungSwingersWeek.com/
Featured Travel & Events
16 Mar - 23 Mar
All Day
Location:
Hedonism II Resort
Negril, Jamaica
Young Swingers® typically want to swing with people and couples that are in their age bracket, plus have similar interests and experiences. That is what started Young Swingers® Week. There are 50 other weeks you could visit Hedonism II...
View Event