SDC Presents Seek, Discover & Create with Lexi Sylver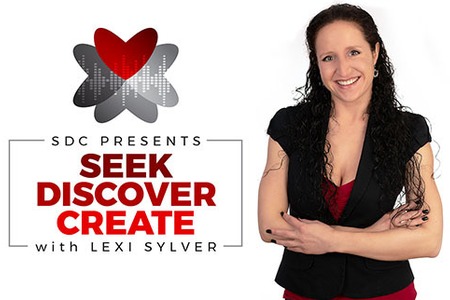 Business Description
About Lexi Sylver

Lexi Sylver is an ambassador for sexual education within erotic dating communities. Her mission is to promote personal empowerment by guiding you to explore your mind and body shamelessly, without judgment.

Lexi shares her passions on her blog, where she writes erotic stories, sex toy reviews, and openly discusses sexuality. She is a published author and curates a selection of sex toys and lingerie on her website. Lexi worked on many movies and series within the adult entertainment industry and was nominated for an AVN award for Best Screenplay.

While studying Psychology at McGill, Lexi was involved in several women's groups on campus. She is on the Sexual Health Network of Quebec's Board of Directors, co-chairing fundraisers to raise awareness for Sex Ed.

About SDC

Since its inception nearly 20 years ago, SDC has evolved from a swingers' dating platform into the world's largest international open-minded community. Each of the 3 million+ members share a common desire to discover, connect and create with like-minded individuals in a safe environment.

To help you achieve this goal, SDC lets you explore and discover your deepest passions by providing compelling content, expert advice and tips from licensed sex therapists, relationship experts, and medical professionals.

Whether you're a first-time explorer or a veteran, and no matter your relationship status, desire, question, or curiosity, SDC will guide you through every aspect of your erotic journey.

Most Recent Episode
Healthy Non-Monogamy: How to Navigate Conflict
Are you in an ethically non-monogamous relationship? Do you want to know about some of the most common types of potential conflict in non-monogamy, and how to avoid or manage them?
Guests
Diana Ryan
Business Info:
Business Type: Social & Dating
Business Category: Alternative Lifestyles, Content Contributer, Dating, Educator, Entertainment, Guest, Host, Kink & BDSM, Media & Press, Pleasure Products, Podcast, Relationships, Safe Sex, Sex Ed 101, Sexuality, Show Sponsor, Social, Travel
Website 1: https://sdc.com
Website 2: http://lexisylver.com
Episodes Archive:
---
Featured Blog Posts
When it comes to porn, it can be a bit of a taboo subject, especially when women are concerned. The allure of porn is often felt more often with men, and there's a reason for that. However...
Read More
Couples that continue to engage in regular sexual activity at a higher level tend to maintain their health and wellness (including sleep). As their relationship develops they will also likely find...
Read More