The DS in BDSM Intensive: Creating and Maintaining Your Power Exchange Dynamic and Relationship
Posted by DrLoriBethBisbey_AtoZofSex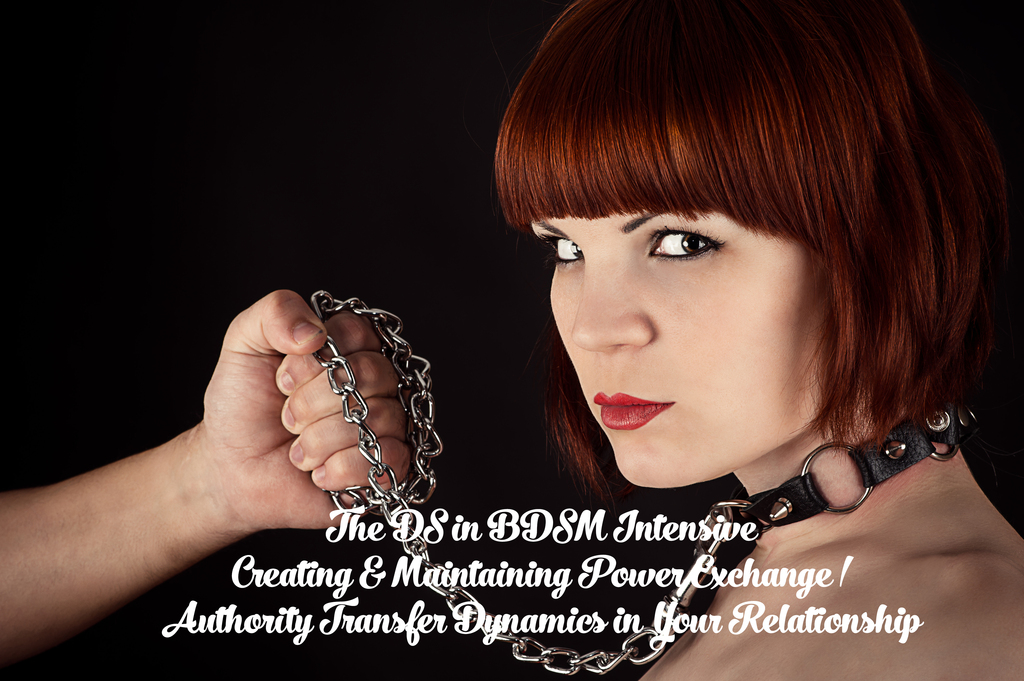 Do you dream of an "old fashioned" relationship where you obey your partner and your partner takes responsibility for looking after you?
Do you find sex dull when it is soft, gentle and both of you are sharing equally? Instead, you crave rough, intense sexual exchanges that test both of your boundaries and push you deeper?
If the idea of power exchange in your relationship intrigues you and you want to learn more about how one works practically inside real relationship(s) or connections, this course IS for you.
Similarly, if you have tried to create a dominant/submissive dynamic in a relationship but it was not successful or what you fantasized it would be, then this in depth course is for you.
Finally, if you wish to explore what's possible outside of vanilla, monogamous, traditional relationships, this course is for you.
As a sex & intimacy coach and psychologist since 1987, I help individuals, and couples, and poly groups explore sexuality, create a healthy sexual identity after trauma, as well as deepen their awareness and understanding about intimacy and relationships.
I'm on a mission to bring sex and conversations about sex out of the shadow and into the light of day. It's my personal and professional belief that everyone has the right to safely, comfortably, and confidently explore, express, and experiment with what arouses, excites, and frees you.
I am queer, non-monogamous, married and in a 24/7 power exchange/ authority transfer relationship with my husband. I am a CIS gendered leather woman and my pronouns are she/her.
Here's what I know: ignoring your desires takes a large toll on your physical, mental and sexual well-being. How do I know this? I've lived it personally and professionally. But not anymore. Today, I am living a fully vibrant life complete with the relationship that meets my desires for power dynamics and exchange at my tempo and pace.
I set the rules and work within the framework of my negotiated agreements. Best yet, I don't live this way as a one-time event. I live it each and every day.
This is what I can teach you to do.
Here's the deal: there is a price you pay every moment of your life when you deny who you really are. People who suppress their desires, avoid their desires or squash their desires have higher rates of depression, anxiety, and suicide.
That doesn't mean that you're going to die or suffer some awful fate if you don't take my course.
But, you will be a whole lot happier by living in full integrated life with all of your true self intact
That is the key to a happy life
People who desire a power exchange relationship and don't know how to create one have shared with me that they lack true intimacy, deep connection and meaning with their partners.
They report lower frequencies of orgasm or an inability to achieve orgasm with a partner.
They feel a shell of their true self with only moments of honesty filtered into a life that feels at times dishonest and isolated.
This lack of connection and lack of pleasure leads to a higher rate of relationship breakdown. Frustration levels are higher.
People who suppress these desires in their marital and long term relationships also have higher rates of affairs.
And possibly the most serious consequence, the longer people suppress these the more careless and dangerous risks they take.
This is no way to live.
And, it's not necessary.
If you want to explore BDSM, power exchange, authority transfer to discover what relationship dynamic suits you best and is a hand to glove match for your desired life, I can show you how it's done. As someone asking these questions, I would like to invite you to my exclusive course. This is not for everyone and is a course that meets the exclusive needs of individuals seriously considering how to add an open dialogue around power dynamics to their life.
Here's a little of what we do.Over 7 modules and 14 weeks, I will teach you:
How to know for real (not the 50 Shades stuff) if you're a dominant, submissive or more between the two roles
The basics of power exchange dynamics
How to know what type of relationship suits you best
How to find a partner interested in the same lifestyle without having to convince, sell, negotiate, compromise or deny who you are to please them
How to introduce BDSM to your existing relationship
What details must be negotiated so you live with mutual consent at all times.
Intention, energy exchange and command voice
The dominant person's role: Control of the power exchange, the dynamic
Creating protocol / ritual
Creating and / or joining community
The submissive person's role: Surrendering to the dominant.
Defining the limits of the power exchange/ authority transfer in your relationship
Working with energy – intensifying desire
Eroticising power and control
Defining and assessing risk in and out of relationship
Creating relationship contracts including my own assessments
What it's like to live this lifestyle as a practice not an event – here I will borrow from my own experience living this way on and off for over 35 years.
The course includes 7 modules of mixed audio/video/written content, playbook of exercises, private FaceBook group with weekly FaceBook live, 7 hours of coaching and discounts on anything else purchased within 6 months of this course.
All of this for an investment of only $1997 or three payments of $697
For a 15% discount, sign up by 25 May 2019 using the discount code: Early1